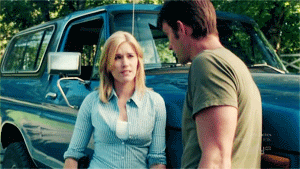 Last nights HAVEN had funny moments and emotional ones. But it LACKED THE NAUDREY MOMENTS =( THERE Are MORE SCENES THEN THE LAST EP OF THEM BUT STILL LACKED. But they are getting in sync alot more and just bouncing thoughts off of each other is just cute to watch and their body movements end up being exact =) they r just so adorable and just AWESOM TOGETHER!! LUV EMILY/LUCAS CHEMISTRY WISH THEIR MOVIE
THE PERFECT PLAN
COULD OF AIRED IN THE STATES THOUGH WOULD LUV TO SEE LUCAS PLAYIN A BAD GUY AND EMILY BEING THE INNOCENT ONE WHO LOOKED LIKE SHE WAS FALLIN FOR HIM! CANT FIND ANY DL OF THE MOVIE DAMN CANADA FOR KEEPIN IT TO THEM SELVES!! =( BUT THERER LUCKY TO HAVE IT THERE BC BOTH EM AND LUC R JUST DAMN HOT TOGETHER ON SCREEN
Luved how Nate and Duke had to work together and the tension that was there was fun to watch bc Nate still hated Duke bc of a old childhood joke gone bad and I would of been mad too but 25yrs ago and Duke at least was tryin to mend the bridge a lil but still wanted to USE Nathan.
Audreys part was a major twist that sort of was obvious at the end when she sat at the colorado kid crime scene and took a look at th cut on her foot where lucy had the same cut bc lucy helped James which caused Lucy to have a cut on the sole of her foot, the same foot apparently Audrey has. Its just gonna be weird to think Audrey being Lucy and the fact that Nathan would probably be wit a *cougar* would be weird yet maybe Audrey really isnt her and so on. Its just a hell of a twist for the writers to go in that direction..
Nuke(taken from
prettybutt
=D )scenes were funny and luved how Duke tried to make Nathan look less Cop and more rugged which suits him better then the combed look but then Nathan goes back to roughin his hair up and lookin yum. Guh everything about Nathan is just yummy to stare at especially the facial movements and reactions Nate makes r just HOT to stare at. Duke callin him self special agent haven pd was just LOL but looked bad ass wit the gun and badge but so not hotter then Nathan when he has a gun and badge on him =), the playing poker wit fake money was goofy yet adorable to see 2 guys playin wit a stack of fake cash and Nathan mostly winning the hands is just funnnnnn!
GOD syfy better give the show a 2nd season would sooooo luv to see the cast back together and just bringing the chemistry to the screen again and again!! they need to come back!!!
Current Mood:
cheerful